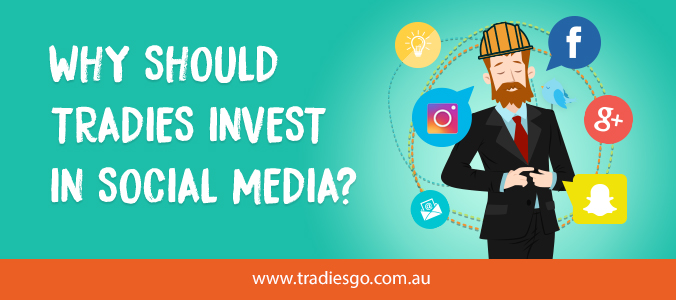 Social media has become the most popular way of networking today. Its huge popularity among young people and its ubiquity in our tech-savvy times has made it amply clear that not only is social media here to stay, it is only going to get stronger with time.
Social media has also taken the business world by storm. With a plethora of options to choose from — Facebook, Twitter, Pinterest, Instagram, Google+, etc. — it can be difficult to decide whether or not to spend your valuable time on such websites.
So why is social media marketing important? Why does it make sense for a tradie to invest in it?
Let's take a look at 8 compelling reasons tradies should invest their resources (time/money) in social media:
To Interact with Customers

According to an IAB study, 90% of consumers would recommend to others the brands they have interacted with on their social media. The study suggests consumers are likely to recommend brands on the basis of brand sentiment alone. The quality of their interaction with a brand's social media will also influence their decision to buy, or at least, trial the product.

Social media is also the best way for a tradie to interact with their customers. It encourages interaction in the form of questions, feedback and reviews. Interaction will help you build a relationship with your customers, thus encouraging customer loyalty and aiding customer retention.

To get maximum engagement provide your customers with relevant and engaging information that they'd find interesting and would love to share within their networks. Engaged customers will reward you by becoming influential brand advocates.

Use social media monitoring tools like Beevolve and Dialogix to find people who are talking about your industry or using keywords pertaining to your industry. Comment on their posts, re-tweet their thoughts, answer their questions, or share something they say. By contributing to their conversations you will add value to their network, which might make them follow you.

To Increase Sales

One LinkedIn research has found that 3 out of 5 small businesses acquire customers via social media.

Social media helps you know your customers and build a relationship with them. Good relationships will turn into leads and ultimately generate sales.

Social media can be a great way to reach your market in a new way. Post relevant content in the social sphere so that people share it within their networks. Chances are if their friends find your content interesting as well, they will like your Facebook page and follow your Twitter feed.

For example: an electrician tweets a tip on how to reduce electricity bill in summers. People following him find it interesting and retweet it to their followers. This may help the electrician gain new followers and probably even new customers.

To Manage Reputation

More and more people are searching for companies/service providers on social sites before making purchase decisions. In addition, Google is increasingly relying on social signals to determine page rank. This makes it important for a tradie to have good reputation online.

Comments or tweets about your services can be positive or negative but a tradie should not fear negative reviews. Instead,accept the blunt truth that negative comments, tweets, posts and conversations are a part of social media. Respond to negative comments quickly and graciously instead of shying away from facing them. Use social media to prove yourself rather than let dissatisfied customers bad mouth your business.

To Collect Market Research

Researching latest trends in your industry helps you make smart decisions about your business, resulting in increased revenue. Market research can be time-consuming and costly but social media is a cost-effective tool for gaining insights into market trends.

Monitor social media to learn what's popular and trending and use these topics in your own social media efforts to create awareness about your business.

To Reduce Marketing Expenses

One of the biggest challenges a small business or a trades person faces is creating brand awareness and marketing their product/service with a limited budget.

A savvy tradesman knows that social platforms are the most cost-effective way of advertising services when compared to other budget draining techniques. It is obvious that posting on Facebook or tweeting on Twitter is more cost-effective than targeting a specific position in newspapers or a specific time slot on the local television.

Social media is a profitable way to find new customers and stay in touch with current ones by building relationships to foster sales.

To Improve Search Rankings

When people search for your services, you want to appear as high in search engine rankings as possible so that they click through your website.

Local businesses usually rely on SEO to be found in local search results. It's important that a tradies website has a great SEO strategy to improve rankings. Social media profiles highly influence your rankings within the search engine results pages. Google and Bing, both use data from social sites in order to determine how high to rank your website.

Social media allows you to broadcast your content to a wide range of interested audiences. Interested visitors read your content and share it within their networks. Publishing high quality content will therefore help you build natural backlinks.

To Gain a Competitive Advantage

Being active on social channels where your customers and prospective customers are also present will give you an advantage over your competitors who are yet to start or are not active enough on these channels.
Social media activities happen in real time. You can provide rapid responses to customers looking for a solution to their problem and can thus gain advantage over competitors who don't respond quickly.

You can monitor social media conversations of your competitors to understand their customers' unmet needs and take the opportunity to solve their problems or offer them freebies. You can also keep tabs on your competitors' activities. Monitor their social media profiles to see what does and doesn't work for them and learn from their efforts.

To Gain Website Traffic

All of the above factors combined – customer loyalty, lead generation, good reputation, exposure, etc. – will greatly enhance your customer base. More people will search for you online, bringing you more traffic.
If you have an excellent website design that's mobile optimized and compliments your content, you'll be more likely to generate revenue.

The bottom line is that social media is a big opportunity for tradesman to drive growth. It is the future and it's in your business's best interest to get on the social bandwagon, or you risk getting left behind.