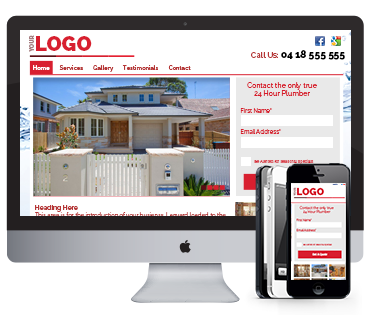 For the majority of plumbers web design is one of those things that has to be done, but tends to be an annoying distraction from your real job. These days, if you want to attract new customers it isn't enough to have an entry in the phone book – most people look for a plumber on Google, so you need to take your business online to stay ahead of the game.
Of course getting your domain name and a hosting package is the easy part; now you have to set up a site. If you're like most plumbers web design isn't something you've studied much. The basics aren't hard of course, and there are a lot of ways to do it. Most hosting services have a free online app that lets you put together simple sites pretty quickly, and it's even possible to do one in MS Word. There are limits to these approaches though, because it's tricky to add the more advanced features you should be looking at.
Why do you need advanced features on your site? After all you're running a plumbing business, not a technology firm. In fact that doesn't make a difference. You need your site to look professional, be easy to navigate and include features that make it easy to get in touch with you. For example it's easy to add an email link, but that can mean your email address gets harvested by spammers and you get a pile of junk in your inbox. A proper contact form also looks more professional and can help you build up a mailing list of people who're interested in your company. When you want to send out your own promotional emails you won't need to spam – you'll have a list of people who've already shown their interest.
Look at some of the other things you find on good websites now – interactive maps, for example. When someone has a choice between one website with an address they have to find, and another that has a convenient map, the one with the map has a head start at getting their business. Little details like that make a difference, and if you want to stand out from your competitors you need to get them in there.
None of the features you're looking for are all that difficult to master, but it does take time to track down the right apps and learn the skills required. Is that really the best use of your time? You have a business to run, after all. Websites are our business, and we have a lot of experience doing plumbers' web design for them. We know exactly what you need from your website and we can build exactly what you need. That means you don't have to.