A Website
With every new tradie seo client we take on the first thing we fix is the website. Afterall, this is the foundation for everything we're going to be working on. If you've got a WIX or Squarespace website – we'll convert it to WordPress. We don't want to have an awkward chat 3 months down the road about how your website is slowing our work down. We take initiative and fix all the broken elements so we have the best performing campaign for your niche.
Google My Business
This is a FREE tool that Google gives you which out of the box can start to drive leads.
When we take control we can OPTIMISE this listing and make you come up in locations that you want to show up in for the service you want to offer.
See below a snapshot of the Google My Business tool in action. Here we are in the #1 spot for Tradie SEO. But you can also see an AD then also our competitors.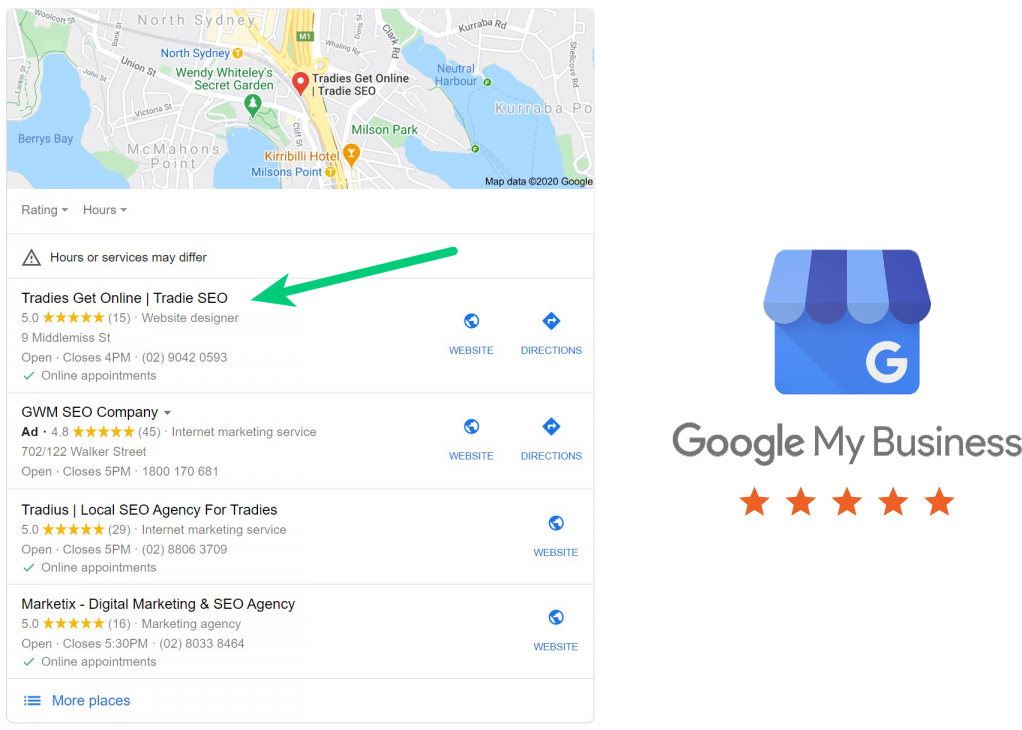 Tradie SEO is Where It Begins
No longer a buzzword, a byword or a catch phrase, SEO has become a pillar to building a successful marketing strategy for tradesmen and builders. In fact – the best performing tradies and builders all have a SEO strategy in place.
Is Your SEO Strategy Working?
Does your SEO strategy actually work? If this question is causing doubt – jump on a Game Plan call with Steph the CEO of Tradies Get Online and let's see if your business and ours are right for each other. The Game Plan call is about 45mins and Steph will go through what's working, what's not and give you a game plan for the next 90 days.
You can take that and implement it yourself, give it to your existing team, or decide if actually you want to work with us instead 🙂
We love tradies, we're the longest standing Tradie SEO Company in the market. Our clients LOVE us and I'm sure you'll love us too.
Why Tradie SEO?
Tradesmen in every trade have a different verbiage and vocabulary. Electricians, carpenters, plumbers and every other trades smiths will "talk shop" with others familiar with this language. So it only makes sense that your storefront and your sign speak a language that your audience also speaks.
This is that part where the bigger actually means better, because regardless of how big your sign is, it won't matter if your customers can't see it. The problem is, your customers are only going to see and find what they are looking for – that means being able to "talk shop."
SEO targeted to and specific to the trades and verbiage used by those tradesmen will result in not only your sign being seen, but being understood.
The Recognised Why and What of SEO
Regardless of how long it took, it was only going to be a matter of time before why SEO matters and what it does became recognised by everyone. What SEO is and does, is act as the beacon and storefront for a business and why it matters is because every store needs a sign. In the world of SEO, the bigger and (more accurately) the better your sign, the more customers you will attract. Customers need to find you online and they need to know how to get to your front door. SEO lets them find you and leads them there.