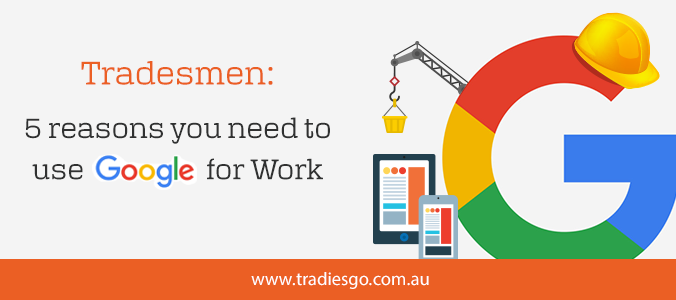 The typical tradesman is an expert in their trade. But when it comes to information technology issues, most would rather not be bothered. As a result, they just limp along, oblivious to the fact that they could be much more efficient in their daily business operations if they used technology to the fullest. Here are 5 reasons you need to use Google for Work.
1. Google for Work was built for the cloud . What that means to you as a tradesman is you can access important documents and other information wherever you are using a variety of devices. Plus, there's no need to worry about spending time and money maintaining desktop components.
2. Google for Work integrates a variety of tools. These twelve tools work together to deliver an all-in-one information management solution. Communicate with Gmail, Hangouts, Calendar, and Google+. Store data on Google Drive. Collaborate with Docs, Sheets, Forms, Slides, and Sites. Manage with Admin, and Vault.
3. Google Apps work with your favorite email client. Depending on your email client, you can use either the POP of IMAP email protocol. Of course, you can also access Google Apps from the Gmail interface. If you're using an Outlook service like Microsoft Exchange, you can use the Google Apps Sync plug-in for Outlook. This allows you to use Outlook to manage your Google Apps mail, contacts, calendar, notes, tasks and journal entries.
4. Google for Work can replace your existing productivity suites. Docs, Sheets, and Slides are tools that allow you to create pure text documents, documents containing text and images, spreadsheets, and presentations. Unlike traditional desktop applications, you can use any device, share them with other people, work collaboratively in real-time, and store them in Google Drive.
5. Google Apps for Work offers professional email. Nothing enhances prospect and customer trust like a professional email address. With Google Apps, you can create as many email addresses as your company needs, like sales@your-company-domain.com or your-name@your-company-domain.com. Don't have a domain name? Google for Work can help with that too. When you sign up, you can set-up a new domain with one of their domain host partners. Once you create your domain, Google automatically sets up Gmail for your domain and gives you complete control over your email settings.
Contact us today to learn more about how Google Apps for Work can help your business.