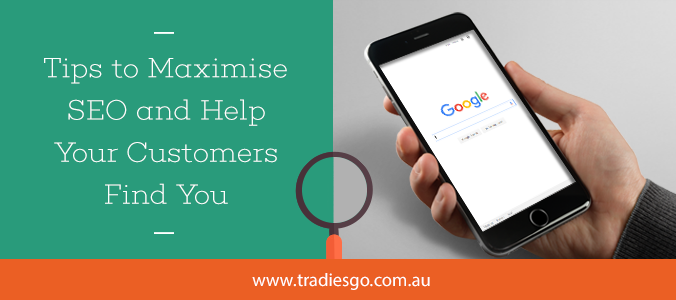 Search Engine Optimization (SEO) offers great income-generating potential to local businesses. Most people search online for florists, bakeries, carpenters, plumbers and other local businesses and tradesmen to meet their immediate needs.
A huge majority of searches are done on mobile devices while on the go. So if you are able to feature on top of Google SERP, the chances of potential customers reaching out to you increase multi-fold.
Tradies usually find it difficult to devote time to SEO activities. But if you follow a few simple rules and play the game the way Google wants you to, then you will be able to place yourself right where potential customers will find you.
Google ranks sites based on how many times the keywords appear on your webpage and your page rank.
This means you need to have relevant and user-centric content on your site and you also need to do well on Google rank-wise. Here are a few tips for tradies to pop up in search results.
Get a Hold over Your Keywords
Find out what keywords your customers will type into Google while searching for your service. Think along the lines of 'Sydney asbestos removal' or more specifically 'Fairfield Sydney asbestos removal'.
The above keywords are relevant to you if you specialize in asbestos removal.
In addition to the 'head term', 'long tail phrases' are also important. Someone may search for 'ways to remove asbestos safely'. Google has improved its search methods to link businesses to relevant searches so you should pay attention to them as well.
So do your research and decide on the keywords and phrases you would like to rank your business for.
Create a Mobile-Optimized and Engaging Website
The websites of most local businesses are cramped with calls to action, pictures of completed projects, and unnecessary details and background information. PDFs and Flash messages mar the experience of online visitors.
The principle of KISS, keep it simple stupid, will work while designing your website. Difficulty in navigation and finding useful info, and poor designing will drive away your potential customers who will easily move to another site with a single click.
Your website should carry easy-to-see information about what you do, the services you offer, contact details and enquiry forms (for bigger projects). Your potential clients will also want to know about your price points.
Providing relevant information should be the primary aim of your website.
Photos and albums of completed projects, the history and values of your business, and other details should feature on the website but are of secondary importance to prospective customers.
Awards, accreditations, memberships in reputed bodies and other approvals, licenses and certifications should also be mentioned on your website which contribute to your credibility.
Complete addresses and exact location will help people trying to meet up with you.
Make Your Website Pages Google-Friendly
Your domain name should be relevant to your trade, for example 'joshplumbingsydney.com'.
Include the name of your business, the complete address and contact phone number in not only the home page and contact page of the website, but also on every page of your website.
Include local landmarks close to your location which not only makes it easier for visitors to find you but also makes you more visible in localized searches. Also try to be associated with local forums, organizations and events. The more connections you have with prominent local bodies the more your name is mentioned online, thus upping your page rank.
Create Accurate Local Listings
It is very important you create and maintain accurate and updated listings on online local directories and review websites.
Each listing is treated as a citation by Google. A citation is an online mention of your name (company or business) and it helps improve your page rank. Ensure you create or claim listings on all relevant local directories like Yelp, FourSquare, TrueLocal, Yellow Pages and Hot Frog, and of course you already are on Google.
Ensure all information is up to date and correct including the name of your business, complete address and contact details. Delete duplicate pages and maintain consistency with the listing info across all websites, social media profiles, your own website and the local directories and review sites.
Moz Local (formerly GetListed.org) will help you with your listing efforts.
Be Responsive to Online Customer Reviews
You need to be proactive and engage with your customers online. Encourage them to post reviews of your services. Ensure you keep track of all reviews and comments that appear online about you.
Google Alerts will notify you each time your name is mentioned online.
Be grateful for positive reviews and thank the customer for his favorable opinion. But there obviously will be negative reviews as well. Respond to them too and try to address the grievance of the customer. If possible try to get in touch privately with the disgruntled party.
Genuine interest and interactions will foster positive engagement and build brand awareness.
Reach out to Customers and Potential Clients via Social Media
Social media is immensely powerful and all customer-centric services need to incorporate it into their marketing plan.
As a tradie you need to find what social media platform is most suited for you. Twitter helps you connect with people on a real-time basis and you can also dive right into discussions within target niches. But since you are focusing on limited geographies and specific localities, Twitter may not be exactly helpful.
Facebook currently has around 10 million users in our country. This means that most of your existing and prospective customers are already logged in.
Ensure your Facebook page is listed as a local business and has a category. When people search your business online they will be able to check in on your Facebook Page. If you are well-connected and have a sizable number of likes and recommendations you will also show up when people search for business in nearby places, so claim your Facebook Place page as well.
Conclusion
Google is becoming smarter, quicker and more efficient. Ensure you have a mobile-optimized website in place and do the best to optimize your SEO. If you don't, you risk losing ground to your nearest competitor.