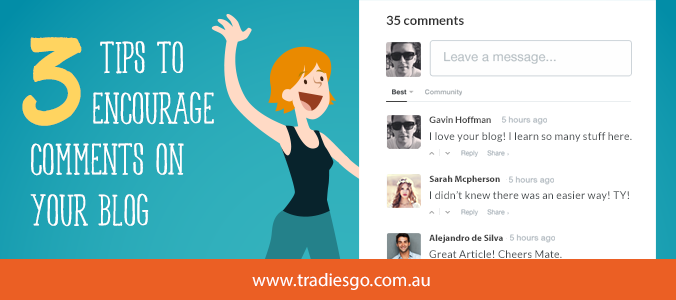 When you have are blogging for your business, there is nothing more discouraging than not receiving any comments when you post a new blog! You may or may not have a following but it is still disheartening when no one even takes the time to write a comment after reading your post! It is a nice feeling to know that your readers like (or dislike) what you write enough to tell you about it.
Here are some tips to help you encourage comments on your blog posts.
Make it easy for your readers to comment on your blog. There are many ways that make it difficult for readers to leave comments. This can discourage readers from leaving comments. If you don't have any comments, you should make it as easy as possible for readers to leave a comment! Don't make them go through hoops just to leave a simple comment. If you start having problems, then make it harder!
Ask your readers a question. End your posts with a question and see if your readers will answer! You should ask general questions to try to make your comments section into a discussion area. However, if you do this, you will need to make sure that you take the time to reply and join in the discussion.
Ask your readers what they want to learn about. This is helpful for two reasons. It can get a discussion going. It can also help when you need ideas for your blog. You may have quite a few topics to choose from the next time you have writer's block!
It can be hard when you don't have any comments on your blog. You may want to give up because you feel like no one is reading them. However, you should try asking them questions. You can also ask your readers what else they need to learn about so you can find your next blog topic too!
Contact us to help you with your website!