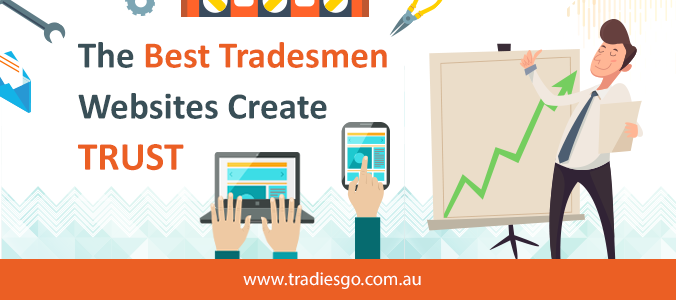 It's human nature to make snap judgments. Your business may not be books, but prospects will judge you by your cover. This is why having a trustworthy website is so important. Visitors will form an opinion of your website within one tenth of a second. Because so many people begin their search for a product or service online, the website you build for your tradesman business will be your chance to make a good first impression. The best tradesmen websites follow these rules to create trust with their visitors.
Design
75%
of users admit to making judgments about a company's credibility based on their website's design.
Poor website design is the number one way to increase your bounce rate. This is when a user exits your site within 10 seconds without interacting with the page. Basics like font, color, and image placement help a prospect feel comfortable navigating through your site. Good design also includes stuff that will let you reach more people, spread the message about what you can do, and most importantly make it easy for people to become customers.
Transparency
A good builders website leaves nothing to the imagination. It should include an "About Us" section, prices, and enough information about your services for a prospect to feel comfortable about following through with a purchase.
Clarity
You may think using industry terms will make you seem more professional, but it could cause your message to be confusing. Focus on conveying your message in a way prospects will understand. You're more likely to gain their trust by communicating clearly and precisely.
Reviews
Did you know that 88% of customers say their buying decisions are influenced by online reviews? Having client testimonials on your website is a great way to build trust. Written reviews paired with a photo go a long way, but video testimonials can really hit home.
Relevancy
Outdated information will cause your leads to question your accuracy. Update the information on all your site's pages as much as necessary in order to remain relevant. If you have older information that is still relevant, simply add an update to let visitors know it is indeed current. And always keep your site's copyright date current.
Proofread
Have you ever visited a website that has poor grammar, punctuation, and spelling? With all the proofreading tools available, these types of mistakes will instantly discredit you with your prospects. Simply having a second pair of eyes to catch the smallest mistakes can save you tons of lost leads.
Properly maintaining your builders website can take a lot of time. Fortunately, we have all the time you need. Contact us online or by calling 1-800-932-669 to find out how we can help you build trust with your customers through proper website design.
Feel free to follow us on Twitter and continue reading our blog for more tips on creating the best tradesmen websites.