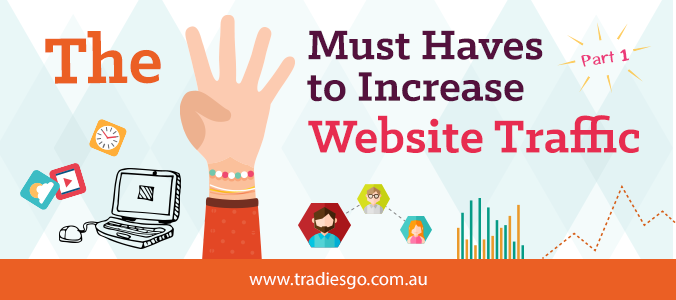 Just having an online presence isn't enough to satisfy your
inbound marketing
needs. What's the point of a website if no one is visiting? Would you like to know the secret to high volume traffic? It's quite simple. You have to get found. The best way to get found online is through proper
SEO
. We're here to shed some light on
the 4 must haves for building website traffic
through search engine optimisation.
Inbound Links
The number one way to get ranked at the top spot of a search results page is through Off-Page SEO with inbound links. Inbound links are when another website links to your page because they are siting information you are providing. The more authority, or 'link juice', your site shows, the more important search engines will rank it. So how do you build inbound links if you have no control over what other sites post?
Submit your website to online directories for an easy start.
Create quality, informative, and creative content and people will naturally want to link to your page.
Write guest posts for other blogs
Check into link building opportunities with other websites. Be sure to only link with credible sites or you'll be lumped into the same category.
Don't borrow, beg, barter, bribe or buy links
. It needs to happen naturally. Search engines know when something isn't organic.
Keywords
Keywords are not only important in your blogs. Properly placing keywords throughout your tradie website is a crucial step to ranking high on results pages.
Pick a primary keyword for each page and include it in the headline and sub-headline.
Include keywords naturally in the body of each page, but avoid overloading.
Include keywords in the file name of images and in the URL.
Write the content for your audience,
then
format it for SEO. You'd be surprised what little extra effort you will need if the content is correctly presented.
Establish yourself as an authority in your field and create compelling content and watch your website traffic increase.
Come back to
learn more
about how to build your website and increase its traffic.