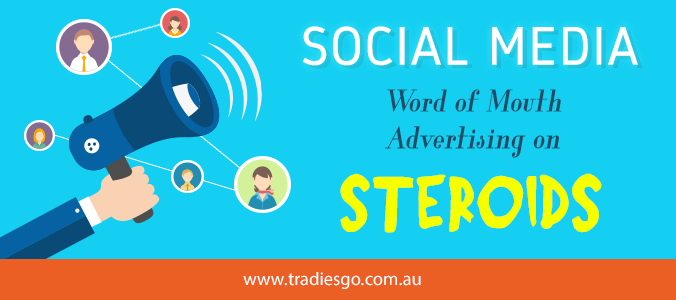 Business owners have known for decades, if not centuries, that word-of-mouth is the best form of advertising there is. That's still true today, even in the technologically advanced world we live in. But For many in today's world,
social media
has replaced face-to-face communication. Does that mean word-of-mouth will decline? Certainly not. All social media does is make word-of-mouth more effective. Here's why:
Traditional word-of-mouth occurs between two individuals as they interact face-to-face or on the phone. With the advent and popularity of social media, tradesmen can benefit from online interaction that's like word-of-mouth on steroids.
How? Well, here are four ideas to help you get started. As your own creativity and knowledge of your particular trade begin to kick in, you'll find that the possibilities are practically endless.
The number one thing to share on social media is content that's relevant to your trade. This can be content you create yourself or links to articles and blog posts published by someone else. Of course, you'll want to avoid linking to content created by your direct competitors. No sense in sending potential customers to a competitor's website or blog.
An idea you may never have thought of is to create and post memes using before and after photos of your work overlaid with customer's comment, and ask them to share it. This is easy to do with an online app like
Pixlr. It's a great way to expand the reach of customer testimonials beyond your website.
Here's another idea regarding testimonials: Whenever you receive one (either written, photographic, or video) and publish it on your website, post a link to it on your social media pages. When you do this, include a brief positive comment about that particular job.
Ask satisfied customers to visit and "like" your Facebook business page or follow you on Twitter, and recommend their friends do the same. The more friends and followers you have, the more likely your social media content will go locally viral.
As you continue using social media on a regular basis, you'll undoubtedly come up with more creative ideas for how to use it as a word-of-mouth tool. Meanwhile, we encourage you to visit our blog often for more marketing tips and ideas. To learn more about how online marketing can help grow your trade business, contact us online or call 1800 932 669. We also invite you to follow us on Facebook,Twitter, and YouTube.