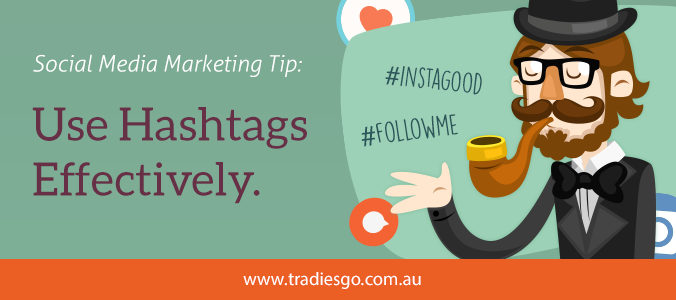 One of the best tools in social media marketing is the hashtag. It's a great tool for helping people find social media content with a specific theme. If you're not using it as part of your social media strategy, you're missing out – it's that simple. But there are some potential pitfalls when using hashtags. Someone might use the same hashtag for a completely different topic. Worse yet, a competitor could use the same hashtag for the same topic. Here are 3 simple tips that will help you avoid these pitfalls.
1. Make hashtags unique.
If you're a ceramic tile installer, the natural tendency is to use a hashtag like #CeramicTile in your posts. But when you enter https://www.facebook.com/#CeramicTile into your browser, you'll see more posts than you can even count, including some relating to jewelry boxes with ceramic tile tops. Not exactly relevant to ceramic tile installation, is it? On the other hand, if you were to enter https://www.facebook.com/#ceramictiletips , you'd get just two posts (at the time of this writing); and they're both from the same organization. By simply adding the word 'tips' to their hashtag, the Ceramic Tile and Stone Association of Arizona cornered the Facebook market for content on ceramic tile tips. Incredible!
2. Make hashtags easy to remember.
An important distinction between hashtags and keywords is that there is no margin for error with hashtags. If you misspell a keyword, Google will politely ask if you meant something else. No such luck with hashtags. If a hashtag is difficult to remember, it'll be difficult to spell. Many users will end up spelling it wrong and this defeats the purpose of having a hashtag in the first place. By making hashtags easy to remember, you also make them easier to type. As a result, people will be more likely to find your post.
3. Use hashtags on multiple social media outlets.
Many people still associate hashtags exclusively with Twitter. While they may have started on Twitter, their use has expanded to Facebook, Google+, LinkedIn, Pinterest, and others. So it's advisable to use hashtags on all social media outlets you employ. Hashtags enable you to organize the content you publish and instill the hashtag into the minds of your audience.
We invite you to visit our blog often for more ideas on using social media effectively. To learn more about how online marketing in general can help grow your trade business, contact us online or call 1800 932 669. You can also find us on Facebook , Twitter , and YouTube .