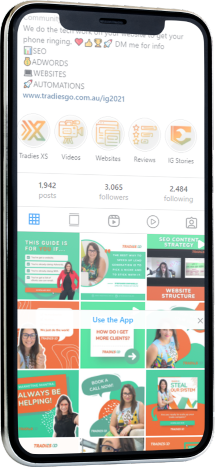 Instagram guide for construction companies
Hard work and great customer relationships are the cornerstone of most trade-based businesses, but in the digital age, those things may not be enough to put you above your competitors and keep people coming to your website. What you really need is an online presence – something that will allow you to market your business and connect with your ideal customers in a meaningful way – and for those things, social media is the key.
There's only one question remaining: how do you make social media work for you and your business in a way that actually delivers a return on the time you invest?
Read on to find out the answer to that question and more.
Start with a strong foundation
You wouldn't build anything without a sturdy foundation underneath, even if that something was as lightweight as an Instagram following. In this sense, the term "foundation" simply refers to everything you do in setting up your profile: the name you choose for your account and your bio. These details will make sure that your business is easy to find and keep new fans and followers trickling in.
Then, it's time to connect your account to LinkTree, a platform that allows you to link your feed to a number of different websites using one web address. This way, if your followers like what they see, there will be one fewer barrier between them and the "book a call" button on your website.
Click Here to Download the Hashtag Guide for Electricians
Click Here to Download the Hashtag Guide for Plumbers
Click Here to Download the Hashtag Guide for Builders
Educate and inspire
The most important consideration for any social media content creation project is not about you, but the people you're trying to reach. You want to create a sense of kinship with the people who follow you, and the best way to do that is by delivering value, so ask yourself, what do I want my followers to take away from my content?
As a general rule, the people who land on your social media feeds are expecting to be educated, to feel inspired, or both – and with the right post types, you can consistently meet and exceed their expectations. For example, you could post a "how-to" series for DIY hopefuls with videos, and link to an article on your website that explains the process in more detail. Then, you might mix it up with a gallery of your latest project and give people something to look at.
From interviews and reviews to team shoutouts, recent work galleries, and content from your site, the range of post options is only limited by your imagination.
Use hashtags and Stories
Gone are the days when posting a square image with a simple caption was enough to keep Instagram audiences engaged. With millions of active users posting content on the platform every day, getting seen and heard is more challenging than ever before.
Fortunately, there are a few ways to get around that – without posting ten times a day or bombarding people with irrelevant hashtags (things that might actually hurt your Instagram efforts). The good news? The most engaging features around are already built into Instagram, giving you the ability to target searches with hashtags and use Stories to capitalise on the magic of video.
Just remember: if you want to nail it (rather than fail it), it's important to plan your content in these areas. Use the Instagram search engine to find out what people are looking for and what hashtags they're using, and look at the questions your customers and clients already ask you as a basis for interesting, educational Stories content.
Schedule your posts
So your Instagram Insights say that you need to share content at 2:47am in order to reach as many people as possible? Doesn't mean you should actually wake up at 2:30 to take a picture, write a caption, and post it – not when you can schedule your posts for any time that suits you through a platform like Later or Preview.
This part is nice and simple – all you have to do is check your Instagram Insights, find out when most people are online, and schedule your posts for that time. Then, at the end of the week, check which posts were most effective and use those post times going forward. Simple!
Social media for tradies doesn't have to be overly complicated or add a significant workload onto your already busy day running your business. You just have to get smart about it! So, to help with all of that, we've created a few PDFs you can use to nail down your approach to creating and using hashtags.
Click Here to Download the Hashtag Guide for Electricians
Click Here to Download the Hashtag Guide for Plumbers
Click Here to Download the Hashtag Guide for Builders