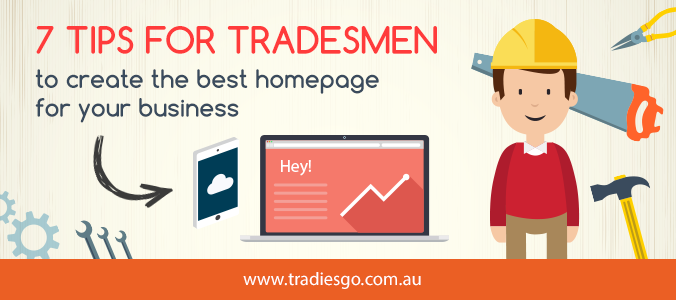 Tradies, especially Builders, work in an enormous market. Those with the special skills to professionally maintain homes and offices are always in demand. Many tradespeople simply advertise in the classified sections of local newspapers or fliers. This kind of advertising can bring in some business. However, the calls usually involve time-consuming estimates with little commitment on the prospective client's part.
The internet has become the advertising medium of choice for increasing numbers of tradespeople. First of all there are classified ad types of listings on the internet. However, these listings are basically passive and can't convey the tradesperson's true range of a skills and talents.
A full website can attract much more attention, draw customers from internet search engines and more completely explain all you can offer.
Here are seven
tips for tradesmen to create the best homepage for your business
:
Use a website instead of an ad. A quarter page ad in a local paper can cost double the monthly fee for a website. The website can include a much fuller picture of what you can do.
Use an inbound marketing style in your website. Include a column about some important aspect of your work or a how-to section that demonstrates your expertise. Make yourself an authority in your field.
Set the website up so that customer can request more information. The website can be a problem solver that leads prospective customers to a "call-to-action," asking them to contact you or make an appointment for an estimate.
Show customers' testimonials in your website. Personal references are vital in making new customers feel confident about your services.
Include pictures of past projects to demonstrate the quality of your work.
Make a great first impression, by giving your website a fresh, attractive design. It should be fully tested to make sure all links work.
Streamed videos are often an attractive asset that adds punch to a website and allows you to communicate your professional personality.
Tradies Get Online is a full website building services for Australian tradespeople. If you are a home builder, landscaper, pergola builder, pool builders or own a construction trades company and you want a powerful community presence,
contact us.