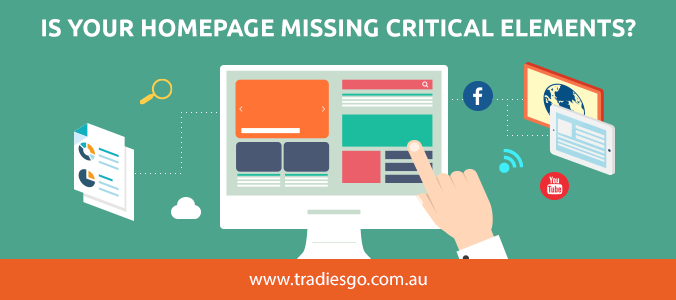 In today's digital age, including a website as part of your marketing plan is a must. Having a website for your trade business is more than just a way to share information about your services. Your homepage serves as the chance to make a good first impression on potential customers. You want to provide enough content to peak their interest and make them want to find out more. A balanced homepage provides:
organized informative content
examples of value
proof of merit
conversion opportunities
There are
12 critical elements every homepage should have
in order for it to work for you.
First your
headline
should be short and to the point, giving them the answer to their first question: What does your website offer?
It should be followed by a
sub-headline
that informs your leads what you have to offer, the value that they can expect from your products and services, and how you are different from your competition. You are not touting your own horn, you are providing simple and direct information.
Include a brief description of your key
features
so leads will better know exactly what services and products you offer.
There is another question you should clearly answer on your homepage: Why do your services matter? Express the
benefits
of using your services and products and what advantage you can offer.
Primary calls-to-action
need to be peppered in on the top half of the page. They will help guide your prospective customers to different parts of the buying cycle. No more that 2 or 3.
The top of the page is also where the
navigation
tools should be located. The pathways into your site need to be clear and easy to locate.
A few short positive
testimonials
are a great way to provide
customer proof
that you are able to come through on what you are promising. Include names and pictures to make a deeper personal connection.
Add your list of
success indicators
to further prove your worth. These can include awards and any recognition your company has received.
Use a
supporting image
or video to clearly express what services your trade business offers. Do not default to a stock image of fake tradies, it will not make the connection you are trying for.
Providing a free
content offer
such as an ebook or guide will add to you credibility and gain their trust.
Adding a link to internal
resources
is a way to keep prospects learning about your business. The longer they stay on your site, the more opportunities you have to convert them into a sale.
Lastly, remember that your leads will end at the bottom of your page. What better place to leave them with a
secondary call-to-action
. Rather than a final thought, they are asked to further their research into your website.
Your business is your trade. Our business is building
websites
. Let us take your information and build a website to increase your brands awareness. We want to help grow your company one click-through at a time. For more information, and to find out how we can help improve your conversion rates,
visit us online
or call 1-800-932-669 today.