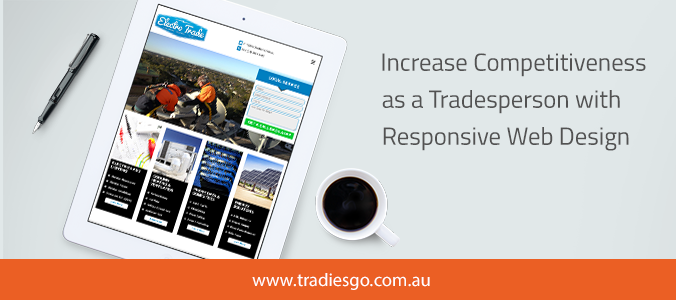 When people are searching for tradespeople online, they often find many choices. How does one decide on the best tradesperson for the job? People are able to absorb a lot of information on a great looking website. This influences potential customer decisions.
It helps to have a responsive website that people can easily view on their smartphones, tablets, laptops and desktops. Responsive web design refers to websites developed to adjust to the screen size of the viewing device. This approach to design also makes websites more interactive and engaging for viewers. A responsive website signifies that you care about the online experience for people at your site.
Take a look at this brief list of approaches to responsive web design for tradespeople:
1. Adjustable web navigational features for customers or potential customers
A website developed with the customer in mind often leads to more potential business growth. A responsive website menu adjusts easily to fit various screens so that people can navigate your site with ease. If a potential customer can simply swipe, tap, or click on their device to schedule an appointment or contact your business, then you may win your customer over the competition.
2. Smart layout for your trade and business content
A responsive layout for a website is carefully designed and managed as technology evolves. This approach helps viewers be able to read content pertaining to your business. The size of the text and the overall grid structure of the site adjusts according to the size of the viewing screen. If someone is able to spend time reading your blog or service options, they are more likely to choose you as their tradesperson.
3. Flexible high-quality images that reflect your trade business
Responsive website development also enables image viewing that preserves image quality for various screen types and sizes. So if a responsive website shows exceptional images of your trade projects, the images adjust for mobile, tablets, laptops, desktops with various specifications.
Responsive web design helps the tradesperson have a competitive website, and it helps the viewer find information quickly. Having a website that is readable on all sorts of devices maximizes the chances you'll engage customers or new business prospects. We're dedicated to creating high-quality, responsive websites for tradespeople. To learn more, contact us.