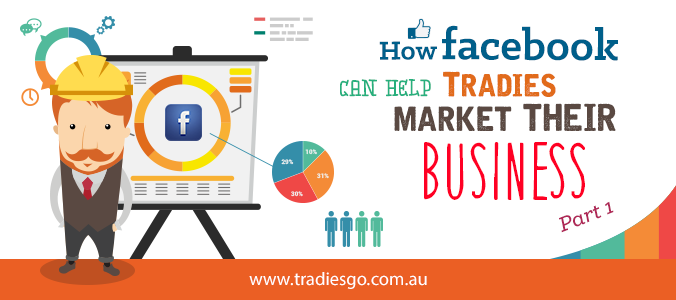 Whatever your business, you want every advantage you can get. You may not realise it yet, but Facebook offers a real advantage to tradies. Let's explore some of the possibilities. There are two main goals of any marketing strategy: Marketing your products and services, and building your brand awareness. Facebook and other social media sites are ideal for accomplishing both. Here in Part 1 of our two-part series we'll discuss marketing products and services.
Making sales is usually the first thing most business owners think of when the subject of marketing comes up. After all, sales is what brings in the money, pays the bills, and earns you a profit, right? Well, the best way to market your products and services on Facebook is to enlist the aid of your existing customers – especially those you've done work for very recently.
Start with a Facebook business page.
This is the very first step in the Facebook marketing process. If you don't already have a Facebook business page, it's easy to create one right inside your personal Facebook account. Just open the drop-down menu at the far right end of the toolbar, click on "Create Page", and follow the instructions.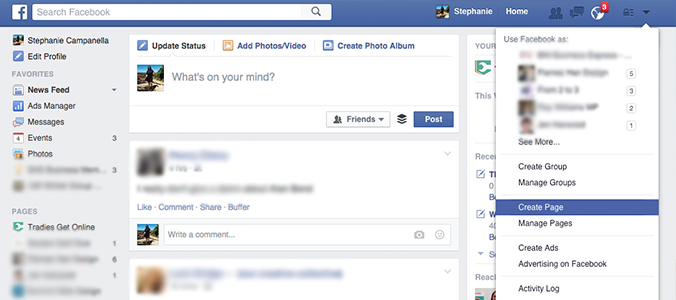 Once you have a business page set up, invite all your Facebook friends to follow it. Having several followers right away will give your page a bit of credibility when existing and prospective customers visit for the first time.
Enlist the help of customers.
Building up a list of loyal followers for your business page is a rather slow, methodical process. The key is to start, and keep at it.
To begin with, reach out to those who've engaged your services in the past, and were happy with your work. Simply phone them up, ask if they're still satisfied with the work you did. If they are, ask if they'd mind posting a brief review of your business on your Facebook business page. If they agree, get their email address so you can send them a link to your page. Of course, if they're not satisfied, find out why and resolve whatever the problem is.
Going forward, ask the same favor of future customers. Only, with them, be sure to snap some before and after pictures (with their permission, of course), and include them with the review. You can also add your own comments, if you wish.
When visitors see the quality work you've done for others, that's the kind of advertising that will result in more sales.
Caution: Promote products and services sparingly.
Whenever we have access to a marketing tool that's free, the temptation is to load it up with all kinds of promotional material. In the case of a Facebook business page, that usually takes the form of product images, or before and after photos of specific jobs, accompanied by some advertising copy. While it's good to do some of that, using Facebook as just another advertising platform is the wrong approach.
Remember, Facebook is a social media platform. People don't use social media to search for stuff to buy. They use it to, in some way, better their lives. You might argue that your services do better people's lives, but Facebook users don't know that yet. So they'll see blatant promotion more as an annoyance than a benefit.
The correct way to use your Facebook business page is to post informative content that is relevant to your particular trade, and other loosely related trades (more on that in Part 2). Then you can pepper your page with occasional promotional offers.
Watch for Part 2 of this series to learn how to use Facebook to build and maintain your company brand. Meanwhile, to learn more about how online marketing can help grow your trade business, contact us online or call 1800 932 669. We also invite you to follow us on Facebook, Twitter, and YouTube.