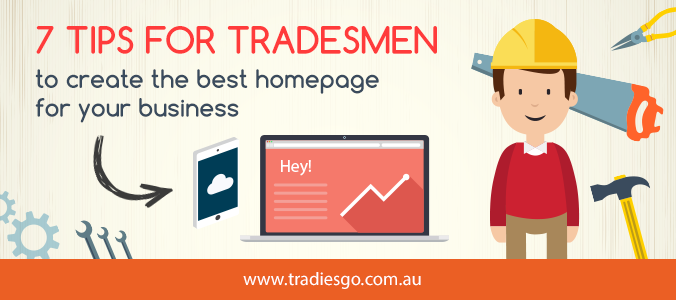 Online presence is key to the success of any business venture, especially when you are a tradie out and about to garner business in a locality or neighbourhood.
You are aware of the fact that people swish out their smartphones for virtually all of their needs and requirements today. And the search for an electrician or a plumber is also primarily done online.
Recommendations from friends and neighbours are held in high esteem but there are many who find it easier to hit the search bar on the Web than call up a friend. So it will definitely pay to be right where your prospective customers are looking for you.
Building a useful, informative and attractive website will help you get spotted, prospective customers will know about your specialties and you will also be able to build recall value.
So, if you are a tradie interested in building a customer-centric website which will help you get more business, read on to find some useful tips.
Answer the Basic Questions

A visitor when he arrives at your homepage will be looking for information into what you do.

If you are a cabinet maker explain the kind of projects you usually take up. There may be customers who are specifically looking for tradies with experience in built-in wardrobes, commercial shop fitting, home office fit outs or entertainment unit installation. Make sure you specify your trade.

Once the visitor knows he is at the right place he will want to know other pertinent details like how long you have been in business and how good your work is.

You can add links to pictures of completed projects in the home page. You can also include testimonials from satisfied customers in the landing page.

The next question in your customers mind is obviously how much he is going to have to pay for you services. A quick estimate will help your customers decide whether they can afford you.

The other important information you must positively have on your home page is your contact details. Your address, phone number, working hours and any other relevant information should be prominently displayed on the home page.

Keep It Simple and Smooth

A cluttered homepage will definitely not get things going for you. You need to keep it simple, straight and easy to navigate.

Do not add unnecessary graphics, photographs, pop ups, flash banners or animated gifs. They do not add to the user experience and just slows down the whole process for them.

There should be limited links in the header and footer which will help keep things in focus and provide minimal distraction.

Provide a Dynamic Call-to-Action

Calls-to-action are what brings business through the website. It helps to transform your site from an online brochure to a sales driver and lead generator.

All your efforts should be channelized towards using your home page to compel your prospective customers to venture deeper into your website and travel further down the sales funnel.

If you are a carpet cleaner, a purchasing agent, a baker or a landscaper, your call-to-action can very well be a request for a free estimate or quote. In some cases, you will be able to do so online if your customer fills in some basic info on the request form. In other instances you might have to set up an appointment and look into the work details before submitting the estimate.

But this is definitely the first and the most important step towards acquiring a new business.

So your home page should include a call-to-action which reads like 'CLICK HERE for free estimate', 'Schedule a Demo' or 'Ask for free Consultation'.

Mobile-Optimization Is Essential

Most people do a majority of their online search while on the go. If a website looks tawdry on their phones, takes too long to load or is practically unreadable then your customers are unlikely to stay on your page for long.

Make sure your website is readable and navigable on smartphones as well. A universal font that works well for both desktop as well as mobile devices will be apt for your website. Mobile-optimize your online info into quick, digestible bites, and ensure your call-to-action is easy to recognize and act on.

But keep in mind that all businesses need not invest in separate mobile versions of their sites. You just need to ensure your website works on smartphones too.

Do Not Blow Your Budget

Your website is not going to take care of all your marketing and advertising activities. You will still need to put up ads in local newspapers and the Yellow Pages.

It takes time and consistent efforts to transform your website into a major sales generator. Keep in mind that the ROI on business websites is low and takes time to pay off.

So save money and invest in other marketing efforts also. As your business grows you can make the necessary tweaks and changes to cater to your growing customer base.

Decide on Your Social Media Exposure

As stated above, building a killer sales-generating website involves building a loyal and engaged audience. But that does not mean you plunge head long into blogging or add Twitter and Facebook buttons to your homepage right away.

Do not put up a blog on your site if you do not intend to post regularly. Out dated posts and neglected blogs are big turn-offs for online visitors.

Also, if you do not have a strong social profile, do not ask people to like you on Facebook or follow you on Twitter. Meagre likes on your Facebook page and scanty followers for your Twitter account will make prospective customers doubt your credibility.

So build up traction on your social media profiles before linking then with your business website.

Another point to note is that all businesses do not belong on Facebook and Twitter, decide whether yours does before jumping onto the bandwagon.

Seek Expert Help

Small businesses can benefit a great deal from a concerted online marketing strategy, and your website undoubtedly has a very important role to play.

Professional agencies will be able to help you design a website that suits your business. They will also be able to judge user/site interaction and make your site more intuitive.

You can create a great professionally designed website well within your budget if you get in touch with us. So why wait any longer?

Conclusion
A great business website should be able to draw, retain and engage audience. If you manage to work out that magic formula you will very soon have most of your customers coming to you with just a click of a button.