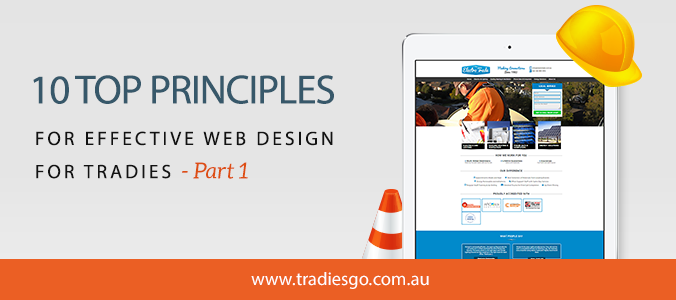 There is a fundamental mistake made by many business owners regarding the design of their website. They think it looks good, so visitors will like it as well. But there are several design factors to consider when designing a website. Here, in Part 1 of the 10 Top principles for effective web design for tradies, we'll discuss the design principles that impact the visitor's experience on a subconscious level.
1. Identify the purpose of each page. Web pages do not all share the same purpose. Some impart information; others provide entertainment; still others are meant to transact a purchase; and the list goes on. As you work on designing your website, identify a specific purpose for each page you publish.
2. Create a layout grid. Just placing content in random locations on a web page can be disastrous. Visitors like consistency. It makes them feel a certain level of comfort and familiarity as they navigate from one page on your site to another. Creating a layout grid for your pages helps you arrange content logically into sections, boxes, and columns result in a more attractive design.
3. Employ the "F" pattern. For the most part, people scan computer screens in an "F" pattern. They focus primarily on the upper and left areas of the screen, and notice little of what appears on the right. A well designed website places information according to importance; left to right, and top to bottom.
4. Minimize load time. Internet users are an impatient lot, so it's important that you minimize load time. You can accomplish this by optimising image size and scale, using Cascading Style Sheets (CSS) or JavaScript files to reduce HTTP requests, and compress HTML, CSS, and JavaScript to speed-up their load time. This, if for no other reason, is why it's wise to engage the services of a professional website designer.
5. Build it mobile-friendly. With the continued growth in the use of mobile devices to access the internet, it's more important than ever that you build a responsive website or build a separate website optimised for mobile devices.
In Part 2 of the 10 Top Principles for Effective Web Design for Tradies we'll discuss design principles that affect what website visitors actually see. We invite you to watch for that. Meanwhile, if you have questions about your website design, contact us online or call 1800 932 669. You can also find us on Facebook, Twitter, and YouTube.